This is something that
Barrie Summy
talked about doing, and I signed on eagerly. We're supposed to write about someone we admire.
I thought a lot about who I admired. I mean, I admire a ton of different people for different reason. I admire Stephen King for struggling through his early years as a writer and not giving up to be where he is now, and also over coming a drug addiction and an alcohol problem in the mean time. I admire Holly Lisle for her pay it forward beliefs in sharing how and why she does certain things to help amateur writers become better at what they love to do. I admire Harriet Tubman for helping to free many slaves during the American Civil War, risking her life and freedom for the lives and freedoms of others.
There are a lot of people I admire. But, then I thought of someone who I've learned a lot about recently, and I'm fascinated by them.
While I would love to write, I also realize it will take many, many years -- more than likely -- for anything to develop in my writing career. They often call that the "10 Year overnight success." In the meantime, I'll be teaching high school kids about English and literature. I've had a lot of English teachers; some of them were great, some of them weren't so great. I've learned from things that I want to do in my class, and things that I hated that I need to remember to stay away from.
There is one teacher especially, who I admire and who I hope that I have the courage and ambition to stand up for what's right and do what she did. Her name is Erin Gruwell. You have heard of her. The movie
Freedom Writers
is about her experiences with a Woodrow Wilson High School class in 1994.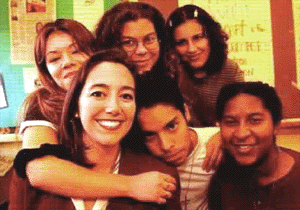 She had to work extremely hard to help her students overcome a plethora of problems. She dealt with racism, poor grades, illiteracy, gang violence, death, and so many other things. And through it all, sometimes at the sacrifice of her own happiness, she worked to make sure those kids had learned something before they left her class. While other teachers treated it as a job, she realized that she was responsible for these students lives and in turn spent a lot of her own time helping the kids with reading, but more importantly, helping them work through personal issues, whether they be gang problems, home problems, or race problems. She had the courage to look those kids in the eye and say "I'm gonna make you better whether you like it or not."
"You don't feel respected? Well, maybe you're not. But to get respect, you have to give it."
-- Erin Gruwell, in
Freedom Writers
*sorry for this being posted late. I forgot to set this to auto-post.