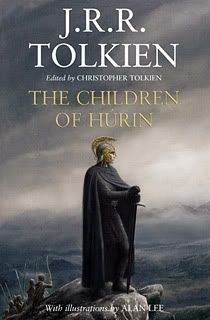 Well another crazy day has come and gone, and I'm exhausted. I"m going to skip on the writing tonight and try to make up for it tomorrow. Last night's writing achievment? 1082 words. That's right, double what my goal is. I was very happy, and I loved what I got. Tomorrow I'll shoot for 1000 again, but tonight, I'll sleep instead of write.
April 17 is going to be a historic month. Nearly one hundred years after J. R. R. Tokien began to pen his notes about Middle Earth, a book is coming out. The Children of Hurin. I haven't been a huge fan of Tolkien, not because of anything in particular, I've just been too busy to read his work. I read The Hobbit three years ago, but I haven't read the LOTR trilogy, nor The Silmarillion, but I've been wanting to read them. Once life lets up and I can catch up on my required reading, I'm going to dive into Tolkien.
And for more fun news, I picked up Weird Al Yankovic's Straight Outta Lynwood. Just as hilarious as I imagined it would be. With the exception of two songs--"Pancreas" and "Weasel Stomping Day"--that don't seem like they fit with the rest of the songs, the cd flows together nicely. With great songs from the rap song "White and Nerdy", an awesome parody of "Ridin'" by Chamillionare, to original rock songs like "I'll Sue Ya," this cd is another great addition. One of my personal favorites, "Polkarama!" is a mash up of some of the more popular songs from last year, including: Modest Mouse's "Float On"; The Pussycat Dolls' "Don't Cha"; Gorillaz "Feel Good, Inc."; and 50 Cent's "Candy Shop"--all set to polka backgrounds. It's a great cd.
Anyway, just thought I'd share some of the news.